Great business ideas brought to life at Startup Weekend Brisbane 2017
STARTUP Weekend Brisbane brought great ideas to life – ranging from blockchain tracking of beef and equine data management systems to gamification of health systems and drone imaging technologies – at River City Labs last weekend.
Incubators River City Labs and Fishburners Brisbane joined forces for the weekend staging one of Australia's largest business 'startup' events. Both organisations worked together to bring together industry mentors, business experts, judges and attendees bursting with ideas to execute into a potential business within 54 hours.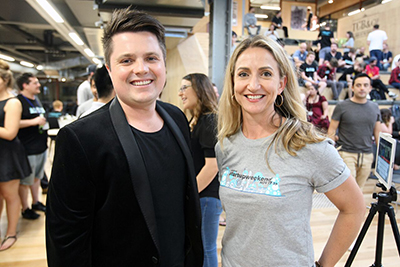 River City Labs CEO Peta Ellis said the goal of Startup Weekend was to inspire, connect and encourage attendees to launch a startup business in just 54 hours.
"It's positive to see the growth in attendance and collaboration at Startup Weekend over the years," Ms Ellis said. "This year we collaborated with Fishburners, one of our Startup Community neighbours to partner on Startup Weekend Brisbane 2017. It is important to showcase the camaraderie of our ecosystem and bring together multiple organisations to support future startups and founders."
Over the weekend of November 17-19, more than 100 attendees gathered at River City Labs in fortitude Valley to take part in three days of business creation. Friday night saw more than 130 attendees, 90 participants, and 34 ideas pitched culminating in 13 potential businesses formed.
Team Pegasus Equine Management who took out first place for the remarkable creation of an information storing and data management system linking service providers in the equine industry.
In second place was team Hearty Habits who used gamification to increase activity and exercise, while the team members of Flytly were awarded third place for their concepts around drone imaging software.
Another inspirational group was Team Daisy Chain which worked on blockchain enabling an end-to-end tracking system for beef. Another team, Tribly, developed a tool to help people make genuine connections – cleverly connecting individuals before an event so they do not have to go alone.
All weekend, ideas pivoted until they found their place. Team VitaminMe was a proposed app designed to tackle Mental Health issues. VitaminMe founders proposed to assist individuals, in important moments, to 'bump into the persona' needed at a particular time.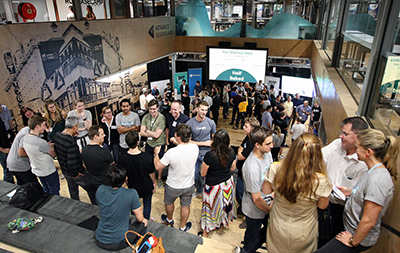 Teams worked on their ideas on Saturday, gathering data validating their assumptions by talking to potential customers and creating business models ready for presentation on the Sunday evening.
The Startup Weekend Brisbane panel of judges included Dominic Holland, CEO of high-growth, Brisbane based Tow.com.au, and co-founder of private tech accelerator Alicorn Ventures; Nikki Durkin, founder of Codemakers, an online coding school for kids and previous owner of 99dresses, an online fashion trading platform for women; Rebecca Hay from Optus Innov8, a business and investment specialist helping startups; and Esther Gergis, who is the Microsoft Startup Program manager across Australia and New Zealand. Ms Gergis also runs the Microsoft BizSpark and BizSpark Plus programs locally.
"It was so great to see such a large number of people pitching at Startup Weekend Brisbane 2017 who had commercialisation at the core of their pitches," judge Dominic Holland said.
"It was a great turnout, and I'm so happy to be part of the blossoming tech startup world in Brisbane; a huge shout-out to River City Labs and all the organisers involved for their work."
ends