Last registrations for Female Founders Mission to the UK
INNOVATIVE business founders wanting to participate in the Female Founders Mission to London, are being called to finalise their applications.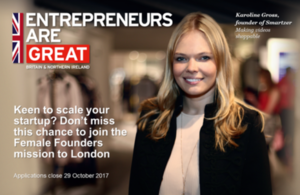 Organiser Startup Catalyst is taking final registrations for the mission, which connects Australian female entrepreneurs, investors, corporate innovation leaders, and policy decision makers with UK female counterparts and start-up community leaders, as well as potential partners, investors and customers.
The mission is being led by Peta Ellis, CEO of River City Labs, which is Queensland's largest start-up hub and community of early stage technology companies.
Over seven days on the Female Founders Mission to London, participants will learn from some of the leading innovation programs globally, gain insights into the European market, develop strong relationships with the cohort of female participants from across Australia and attend tailored meetings and introductions assisted and supported by the UK Department for International Trade.
"I hope each participant will immerse themselves throughout this mission, to learn, connect, explore and grow," Female Founders Mission leader Ms Ellis said. "It's special when female founders start off by coming and going together to eventually growing together. It's a privilege to be leading a group of women to one of the most advanced start-up ecosystems in the world."
Ms Ellis is also the program director for the RiverPitch investment series, lead organiser for Startup Weekend Brisbane, and has more than 20 years experience as an entrepreneur.
There are five female founders receiving Queensland Government's Advance Queensland funding assistance towards the mission to London. They are:
Bronwyn Buksh, co-founder and director of Digital Precinct Pty Ltd based at Peregian Beach, Sunshine Coast. Digital Precinct is a platform for local technologists to create a digital hot-spot in Noosa, where founders, start-ups and technologists can live and work in a unique beach environment, enriched by arts and cultural experiences.
Jannah Dryden, founder-director of Album Registry Pty Ltd based in Cairns. Album Registry is an online gift registry platform for professional photographers who provide photographic print products and services for their clients.
Megan Avard, founder and CEO of SurePact Holdings Pty Ltd, based at Pimpama, Gold Coast. SurePact is an enterprise SaaS start-up providing contract and procurement analytics and risk identification solutions to governments and businesses, saving millions of dollars avoiding cost, time and scope blowouts.
Bronwyn Fenech, managing director of FMStudios, Rockhampton. FMStudios is a bespoke graphic design and website design studio for the region.
Anne-Marie Walton, CEO at Wantu, Ipswich City. Wantu is a for‑profit impact enterprise making parenting easier for happy kids, encouraging social play by using technology for quick fun and activities together, off-screen.
http://www.startupcatalyst.com.au/missions/female-founders-uk/
ends