Fines for drones over bushfires
FLYING drone aircraft near bushfires in now an offence.
The Civil Aviation Safety Authority (CASA) had announced it can issue fines for flying a drone in a way that puts aircraft at risk – and those fines can be as high as $900 on-the-spot and up to $9000 of the matter goes to court.
A CASA spokesman said in bush fire locations where aircraft often fly at low altitudes, drones can be a serious safety hazard – with helicopters most at risk.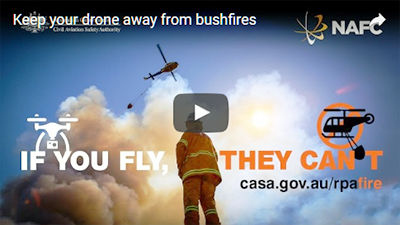 Drones flown near bush fires are also likely to force aerial firefighting activities to cease, setting back fire operations and putting the public at greater risk, the CASA spokesperson said.
Drones cannot be flown closer than 30m to people and property and must never fly over crowds of people, according to CASA. Drones must be kept in sight at all times, cannot be flown at night and must never be flown near other aircraft.
ends