Can Australia invest in Thailand's Eastern Economic Corridor?
By Ellen Boonstra, Asia correspondent >>
TWO YEARS AGO the Thai Government launched 'Thailand 4.0', a vision to transform the Thai economy into an innovation-driven one.
As part of this ambitious plan, the Cabinet in principle approved the Eastern Economic Corridor (EEC) Development Project, aimed at revitalising and enhancing the well-known Eastern Seaboard Development Program, which has held the status of a powerhouse for industrial production in Thailand for over 30 years.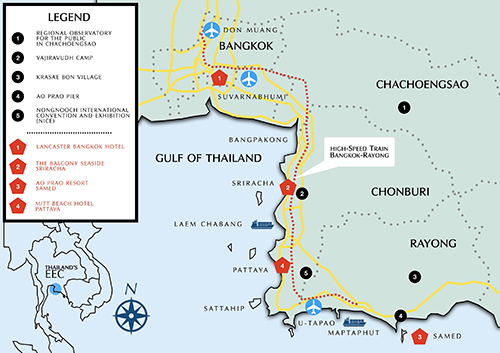 Under this initiative, the Eastern Economic Corridor Office of Thailand has been assigned to drive the country's investment in uplifting innovation and advanced technology for the future generations. The EEC Development Plan will lead to a significant development and transformation of Thailand's investment in physical and social infrastructure in the area.
Initially, the EEC project will be implemented in three eastern provinces, namely Chachoengsao, Chonburi and Rayong. The EEC Development Plan consists of two key components – implementing infrastructural development projects and developing targeted industries.
One of Thailand's key advantages is its central geographical location in ASEAN, acting as gateway to the CLMV group (Cambodia, Lao PDR, Myanmar and Vietnam). Key infrastructural development projects include linking the EEC to regional airways in order to raise Thailand to a central hub for aviation and air logistics, and linking transportation of goods to other regions through the development of dual-track railways between China, Lao PDR, Thailand and Cambodia.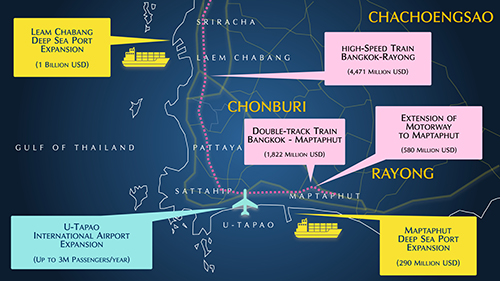 EEC has become Thailand's flagship investment zone offering business and investment opportunities at an unprecedented scale, as well as ASEAN's largest investment zone. The Thai Government is offering generous incentives to attract investment covering personal income tax, corporate tax, work permits, land lease and funding for research.
Currently, 10 major industries have been identified as high-potential growth engines for Thailand. These include the automotive industry, the intelligent electronics industry, advanced agriculture and biotechnology, the food processing industry and medical tourism – and, in future, also the digital, robotics and biofuel and biochemical industries.
PROSPECTS FOR AUSTRALIA
Australia's trade and economic relationship with Thailand has grown strongly since the entry into force of the Thailand-Australia Free Trade Agreement (TAFTA) on January 1, 2005.
Trade in goods has more than doubled since 2004 [from US$6.8 billion in 2004 to US$18.9 billion in 2017].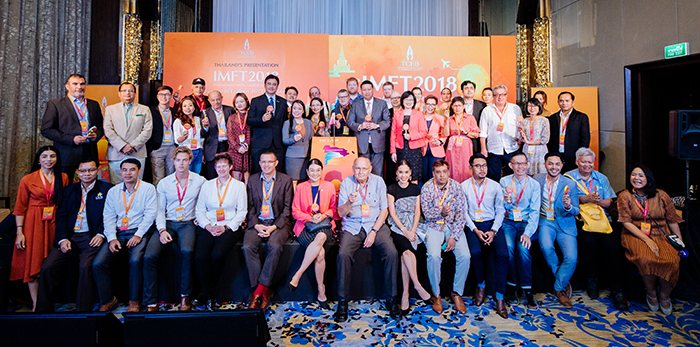 In 2017, Thailand was Australia's fifth highest goods import source. Thailand is now also Australia's ninth largest goods and services trading partner, and Thailand's second-largest in the Association of South East Asian Nations (ASEAN) region.
Total Thai investment stock in Australia has grown significantly from US$294 million in 2006 to US$3.1 billion in 2017; while Australian investment stocks in Thailand were valued at US$4.5 billion at the end of 2017.
Australia's key goods exports to Thailand are crude petroleum, gold, aluminum and coal, and Thailand's key exports to Australia are passenger and goods vehicles. (For example, the Holden Colorado is manufactured in Thailand).
During the first half of 2018, Australia was among the top 10 sources of approved foreign direct investment (FDI) in Thailand and among the top four among western nations – followed by The Netherlands, Switzerland and UK. The approved Australian FDI is worth A$91.7 million.
Given Australia's position as one of the world's leading food and agricultural products exporters, the areas which offer Australia strong business opportunities in EEC are biotechnology and food processing. It is also a good match with Thailand as food processing is one of the country's key exports.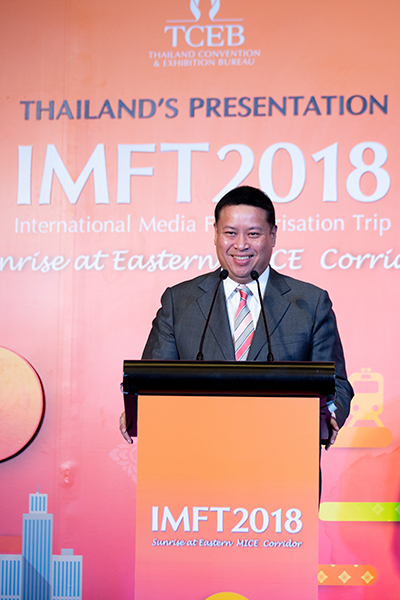 Thailand is also one of the largest net food-exporting countries in the world and the second in Asia with a food trade balance at a record value of US$16.7 billion in 2016.
The 'Land of Smiles' is a major global tourism destination attracting 30 million visitors a year in the past few years, further driving the demand for imported food, beverages and food ingredients to cater to the F&B, hospitality and hotel industries. In sum, prospects in the food processing sector for Australian interests look bright.
Aviation is another sector offering soaring prospects for Australia. Geographically, Thailand is well positioned to serve flights from Australia to Europe and vice versa.
With the expansion of international airports throughout the country, especially U Tapao airport near Pattaya in EEC, Thailand's capacities to accommodate more international flights seem attractive.
According to the International Air Transport Association (IATA), air traffic in Thailand will be amongst the world's top 10 in the next 20 years. Airbus recently entered into an agreement to form a joint venture with Thai Airways to set up MRO facilities near U-Tapao, while the Alibaba Group signed an MOU with Thailand in April this year to set up an ASEAN logistics centre in the EEC.
Mining and natural resources – key strengths of Australia – will be a good foundation for innovation, particularly in the area of sustainability, and an excellent match for Thailand's biofuel sector.
MICE AS A DRIVER
To further elevate the EEC into a centre of trade, investment and human resources of the country and the region, attracting national and international conferences, conventions, exhibitions and tradeshows to the area will be an important driver.
To demonstrate the vast potential and preparedness of EEC as the ultimate meetings, incentives, conferences and exhibitions (MICE) destination, Thailand Convention and Exhibition Bureau (TCEB) recently organised IMFT2018, in which members of the media from 35 countries were invited to experience and explore the burgeoning MICE ecosystem in Chachoengsao, Chonburi and Rayong.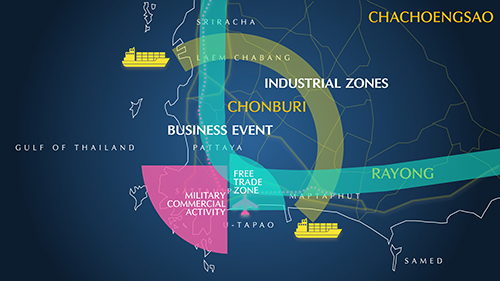 During this five-day trip, guests visited various destinations that lend themselves perfectly to MICE events, including Lancaster hotel Bangkok, Nongnooch International Convention and Exhibition Center (NICE) in Pattaya, the Regional Observatory for the Public in Chachoengsao, Vajiravudh Scout Camp in Sriracha and local village Ban Krasae Bon in Rayong (a good example of community-based tourism), as well as world-class hospitality venues like Mytt Beach Hotel Pattaya and Ao Prow Resort on the tropical island of Samed.
This year Thailand also hosted several key MICE events, namely Taiwan Expo 2018, CEBIT ASEAN Thailand 2018 and Future Energy Asia 2018, with many more planned in the EEC in the near future.
Showing a consistent growth throughout in 2018, it is estimated that by the end of this fiscal year, Thailand will have welcomed over 1,327,000 business travellers, generating 124 billion baht (about A$5.3 billion) in revenue.
Alongside increasingly stronger trade and economic ties between the two nations, Australia is a key growth market for Thailand's MICE industry. Of all long-haul markets outside Asia, Australia was Thailand's third largest in 2018, followed by the US and France.
In the past five years, Thailand has welcomed an average of 22,000 Australian MICE travellers per year.
Alongside taking part in AIME (Asia-Pacific Incentives and Meetings Event), TCEB organises roadshows to Melbourne and Sydney.
"We really value the Australian market," said Chiruit Isarangkun Na Ayuthaya, president of TCEB.
www.businesseventsthailand.com
For more information, visit Economic Eastern Corridor (EEC) and Thailand Convention and Exhibition Bureau (TCEB).
Ends