EXTRA >> By Mike Sullivan
MICREO Limited, the Australian designer and manufacturer of sophisticated military microwave and photonic defence systems, is a relatively small company supplying a big and increasingly demanding world.
Tim Shaw, Micreo's managing director, presented a fascinating address to the Innovation Series luncheon in Brisbane in late 2014, outlining how – even though his company operates in a rare environment – its challenges and keys to success are still those of most small businesses and manufacturers in Australia.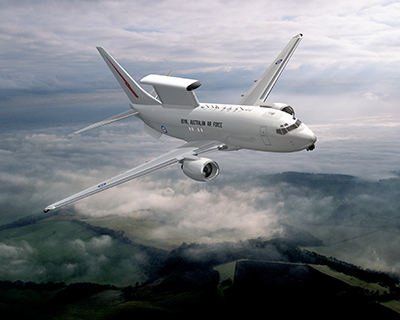 Micreo has had to find ways to manufacture ever-more efficiently and effectively; it has had to employ strategies to manage currency fluctuations, especially as many of its major clients are in the US; and most important it has had to develop a culture of innovation and excellence.
"In a world in which there are big fish and little fish, how can you as a little fish find your lunch and not become lunch?" Mr Shaw opened his address to business, government and research leaders at the Innovation Series.
"I looked at particular challenges that we, as a small company, have faced as a result of being where we are in the world and in trying to do what we wanted to do.
"First and foremost, when we started the business … the A$ was at 53 US cents. You all know where it got to …. Essentially we compete in a world market, even in Australia, because our prices are linked to the world market … and the trade barriers just aren't there, the way they would have been 30 or 40 years ago," he said.
"Secondly, our salaries increased at a steady rate over that period – and even throughout the GFC (global financial crisis). If you look at what happened in the US, salaries from that point on went down even … or, at least, remained flat. I am talking particularly about manufacturing labour.
"The result is that we went from having a significant cost advantage in our labour to having a significant disadvantage. Typically these days, the cost of our labour in manufacturing is about 50 percent more than the hourly rate in the US. Never mind looking at other countries where labour is at a lower rate still."
Mr Shaw said local challenges that small business leaders are familiar with are part of Micreo's everyday as well.
"We have a small domestic market and the distances to world markets, although that is perhaps becoming less of a factor now than in the past," he said. "And then you can't always find what you need in order to make your product, in the local supply chain."
MICREO'S PATHWAY
Micreo was developed by three microwave engineers – Tim Shaw was one of them – in 2002, with a vision to develop the world's best products in their field, Today the firm employs more than 70 people at its Brisbane Technology Park headquarters, supplying a variety of electronics and photonics units that protect aircraft, ships and road vehicles from missile and bomb attacks.
Micreo's main customers are the world's major defence companies – and they happen to be based in the US and Europe. This was by design, Mr Shaw said, and Micreo had to continually innovate to stay in those markets.
"First, we set out to find an export market niche that suited our ability and our environment," he said.
"Second, we had to reduce costs as what we produced steadily became more and more expensive, if we did nothing. Therefore we had to do something to reduce our costs.
"Third, we decided to be the best. That takes some confidence. But that's what you have got to do.
"You have got to go out there and be the best, because how else are you going to get some competitive advantage from where we are in Australia?"
As its technology and products developed to meet emerging threats, Micreo's successes sharpened the definition of its purpose.
"That's our mission: we stop missiles and bombs," Mr Shaw said. "Our products go on to aircraft and they decoy or jam missiles. They also go on to ships and also on to foot soldiers. Our products can help prevent them from being blown up by roadside bombs and the like. We have been pretty successful there as well."
Right now, Micreo exports more than 90 percent of its products. Mr Shaw said the company has grown at "about 15 percent compound per annum" since it started. It has embarked on a building program to keep up with demand, for example recently doubling the area of its electronics clean room.
Because its contracts are often large, the export balance of income can change dramatically. It can also change when Micreo develops a new product that goes on to enjoy global success.
For example, the company has recently developed an airborne optical link system that is unique – and this may become a blockbuster.
"We think we are the first company in the world to come up with that sort of technology," Mr Shaw said. "That has recently gone into production and is, we hope, a game changer. We have at least convinced one customer of that."
GETTING THERE
Micreo has reached this point of prominence by doing many of the things that manufacturers in Australia must do just to stay in the game.
Mr Shaw said Micreo completed programs such as 5S with QMI Solutions, Six Sigma and Lean Manufacturing. He said the cost of completing these kinds of programs is "relatively low" compared with the potential outcomes.
"The other thing we did ourselves – we went to a paperless manufacturing environment very early on in the piece and it has paid for itself in spades ever since," Mr Shaw said.
Micreo's Electronic Document Access (EDA) system has in fact become an inspiration to many other manufacturers. The Queensland Government produced a report on how Micreo managed this process and circulated it to other manufacturers.
"To distribute documents in a paperless environment we introduced touch screens to all our operators, very shortly after they first became available on the market," Mr Shaw said. "They feed straight into our ERP (enterprise resource planning) system automatically. It even prints out their time sheets. It's a no-brainer. It saves you at least 5 percent of your product costs."
One of Micreo's US customers introduced it to the Six Sigma process.
"They sent out a team of eight people for a couple of weeks, because they really liked our product but they wanted us to build it faster and more efficiently," Mr Shaw said. "Not often you find customers like that. We have gone on with that and taken it on to Lean and, in fact, our chief of operations is now a black belt in Six Sigma.
"Lean goes a bit further in some ways and not as far in other ways as Six Sigma, but they are very complimentary."
Mr Shaw highlighted the challenges of growth largely being mitigated by effective communication within and beyond his company.
"Staff communication," he named as Micreo's key focus for growth. "When you start a business – although I started with three close friends, and two of the guys I have worked with for more than 25 years, having recruited one of them when he was an intern at university – but after a relatively short while the culture begins to dilutes as you get more people in.
"Metrics and KPIs are very important—if you can't measure how good you are or what is happening, then you cannot really improve it."
MANUFACTURING EDGE
Micreo has gained an edge through mastering what Mr Shaw identified as 'lean design'. The company is also focused on protecting itself through technology patents and continually automates by using leading edge equipment.
"Lean design – that's all about designing the product for manufacture," Mr Shaw said. "It is much better if you can design the product right in the first place, rather than jumping through hoops to manufacture something which is difficult to manufacture.
"Technology patents – we started the company able to do difficult technology and that was attractive to customers. But along the way we've created a few things unique to our company and they have paid for themselves.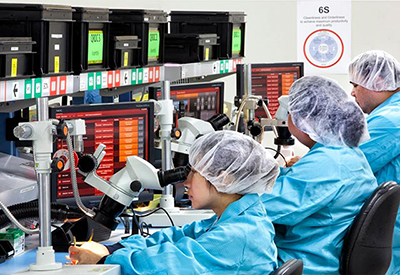 "Automation and the world's best equipment – you can offset the high labour costs of our environment by introducing those aspects. But not so easy to do because of the money you have to invest, especially as a start-up company."
But Micreo is always on the lookout for the next innovation or system it can adapt to gain an edge. That may soon include manufacturing in the US.
"We have been keeping an eye on additive manufacturing and that is getting to the point where it can meet the tolerances that we require in our industry," Mr Shaw said.
"I have also just come back from the US and we are thinking of opening up some manufacturing overseas – we think this will open up the market for us there. It will make it easier for some of our customers to deal with us and increase the size of our business."
Another edge Mr Shaw sees in Micreo's arsenal is its climb to the AS9100 standard.
"Now that we are AS9100 – and it is an order of magnitude harder to meet than the ISO9001 standard –  all those complicated records (are easier to access)," Mr Shaw said. "Such as, should a transistor fail (in a particular unit) and you want to trace it, that can be immediately figured out by access to the system."
Another shrewd company-wide system was to educate everyone, hands-on, in its manufacturing methods and systems.
The entire company was involved in an exercise, modelled using Lego, on manufacturing systems. Teams were asked to complete various manufacturing tasks then shown how to adapt Micreo's own systems to problem solving.
"At the start of the Lego process you were lucky to get two assembled in the allotted time, but by the end in the same time you were able to do over 100," Mr Shaw said. "And a similar thing with the design. We produced some software in which we can input our electronic design and it comes up with the number of parts and whether you can find a more efficient way of designing the thing."
This has had a strong ongoing effect on innovation, with staff using the communication system for problem solving.
"We typically get 50-100 improvement requests, as we call them, every month in our system – a computer-based idea – and we select the best and give them a prize," Mr Shaw said.
"In terms of engagement, we involve them (staff) in the planning. We want to hear the good and the bad."
Micreo also sponsors scholarships at local universities, often having students complete work experience periods on site.
"It is hard to measure how much of a cost saving that gives us but it is a very significant thing," Mr Shaw said.
CONTINUOUS PLANNING
Mr Shaw said an integral part of progress for Micreo was business planning, however this has morphed in the way it is conducted.
"Before we started the business I wrote a business plan and it was 150 pages. It was very valuable to me but I think I as the only person who read it," Mr Shaw said.
"Each year we have updated it and it has gotten smaller and smaller. Lately we have this chart that goes up on the wall that is not written by one person but it is written by the entire company.
"We looked at the why, the what and the how … the deep motivation needed because we wanted our products to be the best in the world. Then we looked at the core values. The first of those was high quality, on time and on specification.
"We achieved four years of 100 percent quality and 100 percent delivery on our major customer, with at least $500,000 worth of deliveries to them every month," he said.
Another constant in Micreo's philosophy is to work on "the very hard things". As Mr Shaw put it, "If it was easy, they'd be doing it.
"Me-too is not a recipe for success in the Australian environment. We have to be doing something which is difficult, because otherwise somebody else will do it cheaper."
Structurally, what Micreo did was embark on a range of surveys to set new directions and initiatives based on the research. They did what they called 'voice of customer' research and included risk surveys to come up with predictive success factors.
" … so we know if we do these things it will make our business more successful," Mr Shaw said. Micreo picked the top five of those predictive success elements and divided staff up into teams with 10 initiatives for each of those top five factors.
Those teams of five then came up with the actions needed to achieve those top five predictive success elements.
"We are about two thirds of the way through all of those actions and it has been without a doubt our most successful plan and has got the buy-in from everybody," Mr Shaw said.
SHAPE OF THINGS TO COME
Visual reinforcement is a feature of Micreo's headquarters, as it should be for all developing manufacturers.
Mr Shaw said these visuals included charts of metrics and benchmarking, which are changed weekly in most cases. There is also monitoring of  absenteeism and process, although Mr Shaw said it was hard to capture exactly how much money that saves, "but it is significant".
There is also a healthy emphasis on the natural competition that emerges among operators in the manufacturing process. Mr Shaw said this was encouraged by Micreo and as a way of helping operators to "lift their game and to find out just what is the best way to do a particular thing".
Much of that success can also be linked to Micreo's emphasis on having the world's best manufacturing equipment.
"Each of our technicians sit in front of about $250,000 worth of equipment," Mr Shaw said. "That's one reason why we run shifts and manage a hot seat system.
"With laser welding, we have the only two machines of this type in Australia, that can weld aluminium and various other metals, like titanium, in an inert atmosphere, argon helium environment.
"More recently we have this very precise dye placer,  which picks up items that are half a millimetre square, orients them the right way and does not damage these very delicate gold circuitry that's on the surface of those chips."
Micreo has benchmarked itself against more than 200 similar companies worldwide, looking at about 40 different parameters – and it has done so on three occasions from 2006. This was a pleasing exercise to measure progress, rising from what is known as the 'world class quadrant' in 2006, higher up that quadrant in 2010 and by 2012's benchmarking Micreo was clearly towards the very top.
All this effort is paying off as Micreo's R&D breakthroughs are able to be developed into products rapidly and cost-effectively.
A good example is its latest patent, filed in February 2012, which enabled the company to gain a very large contract from a US defence company.
"There were eight invited bidders of which we were the only non-US bidder – and we got the guernsey," Mr Shaw said. "Part of that was cost – we were less expensive – but we had a great record with the customer and we also had a great technical proposal.
"This particular invention is the thing that enabled us to get our costs down. By building this item into each article that we ship, we are able to cut our technician time by about 50 percent."
The most recognisable program Micreo has influenced in Australia is probably the RAAF's Wedgetail airborne early warning and control aircraft, aboard highly modified Boeing 737-700 aircraft. Much of that technology is now also sold to the US.
Micreo was introduced to the program to provide its very first product that it designed and manufactured – and there are eight of these now per Wedgetail aircraft.
"Australia was the first to get those aircraft – basically a Boeing 737 with what looks like a giant surfboard on top," Mr Shaw said. "We are still exporting that to our customer overseas.
"Initially it was 70 hours per unit, of touch time, and we have had a couple of goes at re-design and that time has come down to 39 hours. So a major saving in time there … and there has also been some saving in materials through selection of different components and so forth."
It was Micreo's success in complex projects like the Wedgetail program that recently won it the Supplier Continuous Improvement Program Gold Award, Australia's version of the international 21st Century Supply Chain program – one of only three companies in the world to have achieved that status. The award was presented at the Australian Defence + Industry Conference last year.
Mr Shaw said the award recognised the value of the system Micreo had built and how it worked to make the organisations it supplied more efficient as well. There are 800 companies in the UK and Australia assessed by this system, which delves into every aspect of a business.
"That is like a vessel into which you can put all these improvement initiatives," Mr Shaw said. "It allows you to manage multiple initiatives at the one time. It is a program that was started by our customers, effectively.
"What they wanted was suppliers who could deliver the right product at the right time. When you have an aeroplane sitting at the end of a production line, you don't want to be held up by one component.
"Just about every aircraft that has ever been manufactured has been late and overweight, so they put a lot of effort into trying to minimise that effect," Mr Shaw said.
"The most important thing, as far as I am concerned, is the recognition that it gives to the team that I lead – because it takes everyone to contribute
ends