EXTRA >>
LOVITT  Technologies Australia won a US$2.95 million contract from Lockheed Martin to manufacture F-35 Lightning II Joint Strike Fighter titanium keels in late 2013. 
Lovitt won the order for more than 300 parts, fending off global competition and guaranteeing high technology work at the company's Montmornecy, Victoria facility over the next three years. 
The titanium longeron keels form part of the linkage between two structural bulkheads in the aft portion of the inner wing assembly and provide structural integrity of the aircraft wings.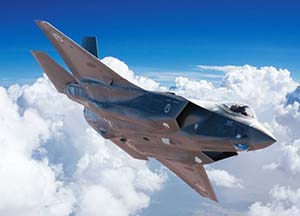 "We are pleased that our offer was selected for this work on the F-35," said Marcus Ramsay, Lovitt Technologies Australia managing director. 
"Being a key supplier on the most high-profile defence program in the history of the world, gives our company the opportunity to showcase Lovitt Technologies' capabilities as a provider of high-tech, precision engineering to the aerospace and defence sectors.
"We pride ourselves on having the flexibility and resourcefulness to address our customers' unique requirements in order to deliver maximum value on the F-35 program."
Lovitt Technologies Australia is a specialist aerospace and defence manufacturer with the capabilities and operational procedures designed to suit the specification, quality and quantity requirements of the industry. 
The Lovitt machine shop offers high-end precision equipment, including five-axis milling and seven-axis turning capabilities, which have been specifically configured for the exacting requirements of aerospace and defence manufacturing.
The flexibility of Lovitt's production facilities enables the firm to address the unique volume and scheduling requirements of these programs, Mr Ramsay said.
Australian New Air Combat Capability (NACC)  program partners have the opportunity to supply components for the entire F-35 fleet, not just Australian aircraft.
The program is developing high-tech industry jobs around Australia and helps develop capabilities and the types of technology transfer required to remain competitive in the global aerospace marketplace, a program spokesman said.
So far almost 30 Australian companies have been awarded F-35 contracts at a total value of US$300 million.
Australian industry is expected to gain up to US$5.5 billion in industry opportunities over the life of the F-35 program. Every F-35 built will have some Australian parts and components.


Click here to learn more about how Australia's New Air Combat Capability (NACC) program supports Australian manufacturers of the F-35.
ends