Magic Mobility: developing wheelchairs for a world that is not flat
FROM DRIVING through the soft sands of Australia's beautiful beaches, climbing the many rugged mountain ranges, to dominating the nation's muddy farmyards, Magic Mobility has enabled its clients to experience the freedom and adventure that comes with a go-anywhere wheelchair since 1994.
In the process, the company is re-defining wheelchair mobility for new generations and improving lives.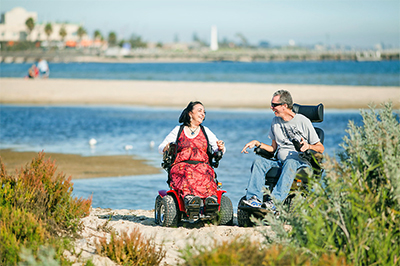 Magic Mobility's story started in 1987 when Ashley Daff, fresh from studying prosthetics at university, secured an assembly role at Sibbing Mobility in suburban Melbourne.
Within six months of his arrival, Mr Daff was the go-to man for all of Sibbing's highly-customised wheelchair solutions.
Over the years, Mr Daff developed strong relationships within the disabled community and was known for his deep understanding of the human body and his exceptional level of mechanical nous. When the future of Sibbing was looking doubtful, Mr Daff took the leap of faith and founded Magic Mobility.
From its inception, Magic Mobility soon made a name for itself developing customised wheelchairs empowering end-users and enabling them to go places where standard wheelchairs could not take them.
The customisation is an essential offering that enables people to live the way they choose. Magic was determined to push the boundaries of what power chairs could achieve by being resolutely driven by the unmet needs of their users
From its origins of designing and building manual wheelchairs, Magic soon moved in to powered chairs. Noticing the unfulfilled need for outdoor experiences, Mr Daff starting developing highly mobile wheelchair bases that were capable of climbing gutters and taking on rough and unpredictable terrain.
A series of successful wheelchair designs culminated in the development of the Extreme 4x4.
The Extreme 4x4 was a pioneering world leader in outdoor mobility, shattering any preconceptions that people with disabilities couldn't enjoy the most rugged of terrain.
With a powerful motor driving each of the four wheels, the Extreme could take users to places that had never seemed possible before. The world took notice and wheelchair users from around the globe started demanding a Magic Mobility powered wheelchair.
Magic began exporting their boundary-pushing wheelchairs to all corners of the globe including the US, UK, Europe, the Middle East and South East Asia.
Complementing their Extreme wheelchair, Magic Mobility had developed a world-class range of wheelchair solutions designed to provide highest level of independence for their diverse customer base.
These wheelchairs have become class leaders in providing solutions ranging from driving in the tightest of spaces, being collapsible to fit in the back of a station wagon, or to providing users who can only move their head the ability to drive a wheelchair and achieve a level of independence unheard of previously.
As Magic Mobility reached its second decade of operations, and steady growth, it became clear that the opportunities to innovate and grow were greater than ever.
"After 20 successful years of somewhat organic growth, Magic engaged external design thinking consultants to help us identify what makes our business unique and successful," Mr Daff said. "We developed a plan for growth into the future."
Magic Mobility's management and staff embarked on a journey of discovery and a realisation about where the company could go.
"After a lot of well-targeted questions from the consultants, we brought to life what Magic Mobility does with our cause: Enabling wheelchair users and their families to experience a world that is not flat," Mr Daff said.
"We endeavoured to distil our principles down to a distinct set of values: Empathic, Maverick, and Driven to go further.
"Magic Mobility's cause and values have become an invaluable tool in decision-making throughout the business," he said of how planning is conducted today.
"Previously, decisions were made based on the experience and intuition of the individual. We now have a strong set of principles for all departments to refer to for regular day-to-day decisions and long-term strategic outcomes."
The potential of Magic Mobility was reinforced after a recent study mission to Denmark to visit world leading design businesses.
"The standout lesson was that each business had a clear, motivating purpose and vision along with a distinct set of values which help define their journey," Mr Daff said.
"Ensuring all employees act with this philosophy in mind is a challenge; but having an inspirational purpose and set of values has given us a clear framework for future business growth."
To drive this potential even further, Magic, Mobility has joined Victorian Leaders this year as an Executive Member.
ends