E is for entertainment in e-Learning
AN E-LEARNING 'quantum shift' is being engineered in Brisbane by combining a 15 year old e‐learning company, a state of the art global content studio and an exclusive partnership with the Australian Institute of Management (AIM).
AIM is openly calling this collaborative company "a 21st century e‐learning powerhouse". The e‐Learning Company.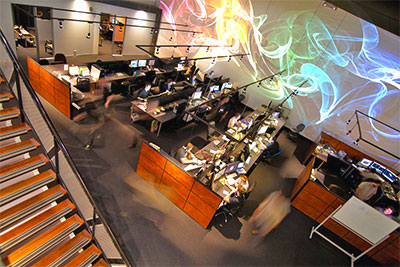 Brisbane based, The e‐Learning Company – currently operating in the $3 million realm, has just launched its new look and services after 15 years of trading and has announced lucrative new partnerships, which the business leadership believes, will double its turnover to $6 million by the end of next year.
The new e-Learning Company has just announced it will be taking its services to the next level thanks to its partnership with the renowned visual production company, the Cutting Edge Group, as well the Australian Institute of Management.
The e-Learning Company's new general manager, Jason Aspinall, said, "Never have we seen a content creator join forces with an e-learning business. It would appear that big things are set for the e-learning industry."
He said this approach would give The e‐Learning Company the capability to take its services international, using the Cutting Edge footprint already established in Asia. With the Asian e‐learning industry worth an estimated $18 billion by 2018, it is worth dabbling in. The sights are not limited to Asia, with a strong desire to conquer the US on the radar too.
Cutting Edge Group director, Matt Lawson called it an unprecedented partnership.
"The e‐Learning Company has positioned itself within the fragmented market that currently exists, as the only e‐learning business to sit within a creative production company who work alongside Hollywood studios and have access to animators, creative directors, editing suits and audio suites – it is something no one in the e‐learning space has seen before," Mr Lawson said.
""Imagine a company aimed at resolving organisational issues through e‐learning with amazing and engaging graphics and creative concepts which wouldn't be out of place in a Hollywood movie ‐ that right there is the future of engaging e‐learning for all employees.
"When it comes to creating e-learning that genuinely changes employee behaviour and helps people to get better at their jobs, it means creating something that will connect with people. Having access to the best creatives in the country means we can create those experiences like no other organisation."
The e‐Learning company is already working with Australian powerhouses, including The Coffee Club and G8 Education, helping them take their businesses to the next level through tailored staff training and development services.
The partnership with AIM motivated The e‐Learning Company to help registered training organisations take their face‐to‐face training into a blended learning environment, enabling the training programs to be completed at a convenient time that best suites the learner.
Analysing, designing, developing and deploying compelling courseware is what The e‐Learning Company aims to deliver and this is done through a three part offering; consulting, courseware and learning management systems. This hybrid ensures each unique company is receiving a fully customised program to challenge their workforce in a way that teaches and changes behaviour.
"We are incredibly passionate about challenging behaviours and inspiring a change in our clients. It's not about creating training, it's about creating change," Mr Aspinall said.
"We are the best at working with businesses to find solutions to their training needs that will ultimately lead to better behaviour, lower costs, and ensuring their teams have a greater impact on the business' success."
Currently housing 25 staff in its Brisbane headquarters and already experiencing the need to expand the in‐house team of specialists by five within the first month, The e‐Learning Company has established the most talented and dedicated teams imaginable with a strong emphasis on client's individual needs and a solution focused approach.
Within its past 15 years of business, The e‐Learning Company has gained credibility through successfully winning 15 LearnX and iDesignX awards, recognising and promoting the best talent across the world of learning. These awards demonstrate the triumph of talent The e‐Learning Company holds within the industry.
"I'm so excited to be joining such a force in the industry and be part of a major shift in the future of e‐learning and what that will bring to Australian businesses as well as overseas," Mr Aspinall said.
ends