Austal to build two more US Navy ships
AUSTRALIAN defence industry manufacturer Austal will build two more warships for the United States Navy.
Austal will build two additional Independence-class Littoral Combat Ships for the US Navy, following through on eight ships already delivered.
The vessels, which were designed at Austal's Centre for Excellence in Maritime Design in Henderson, Western Australia, will be the 16th and 17th ships in the class for the US Navy.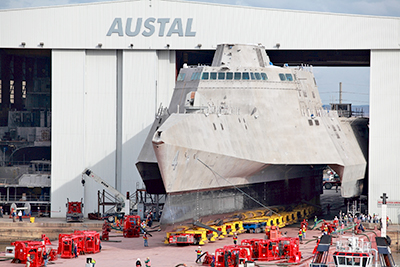 "This is an outstanding success and comes after Austal won the contract to build 21 Guardian Class Pacific Patrol Boats in WA," Minister for Defence, Christopher Pyne said.
"The patrol boats will be delivered to Pacific nations as part of our Pacific Maritime Security Program."
Acknowledging Austal's success, Minister Ciobo said he hoped to see even more Australian companies achieving export success.
"Through the Defence Export Strategy we want to become a top 10 defence exporter and I encourage other Australian companies to get in touch with the Defence Export Office to find out what support is available to them," said Minister for Defence Industry, Steven Ciobo.
The contract award follows an announcement by the Government of Trinidad and Tobago in July 2018 that it would purchase two Austal Cape Class Patrol Boats.
Austal has also delivered Cape Class Patrol Boats to the Australian Border Force and Royal Australian Navy.
Mr Ciobo said all defence exports "continued to be subjected to Australia's rigorous export control regulations'.
ends