Ombudsman: Small Business Award the simple solution to a complex problem
THE Australian Small Business and Family Enterprise Ombudsman (ASBFEO) Kate Carnell has welcomed Prime Minister Scott Morrison's commitment to 'go back to the drawing board on industrial relations' and is calling for the introduction of a Small Business Award.
The recommendation is part of a suite of reforms to support small businesses in the post-coronavirus recovery phase, as outlined in the Ombudsman's COVID-19 Recovery Plan.
"The Prime Minister was right in his Press Club address, in saying the current industrial relations system is not fit for purpose," Ms Carnell said.
"In this new world we live in, with business confidence at a historical low, the system needs to make it easy for small business employers to be able to hire and manage staff, so they can get on with the job of running their business.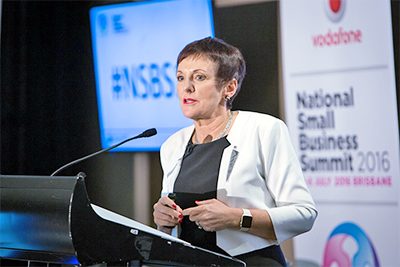 "The Fair Work Act has 960 sections and over a quarter of a million words. On top of this, Australia has more than 100 industry awards, with hundreds more classifications within those awards," Ms Carnell said.
"If big businesses with large HR and payroll departments struggle to comply, it's nearly impossible for small businesses who really want to do the right thing. If nothing changes, those small businesses that were planning to grow their business or start a new venture, simply will not.
"COVID-19 has had a devastating impact on Australian jobs and that needs to be countered with positive changes that make it simpler for businesses to grow and employ – particularly at a time when small businesses are trying to get back on their feet," Ms Carnell said.
If adopted by the government, the Small Business Award would be simpler than existing awards and available to all small businesses on an 'opt in' basis. It would cover all staff, irrespective of their different duties and would include a 'permaflexi' classification.
The Award should have minimum standard pay rates, which can include penalty rates but not overtime ie: loaded rates, the Ombudsman said.
"Permaflexi gives the employee a permanent and secure position with standard forms of leave, but it also gives the employer the flexibility to ensure all duties are carried out, without the onerous need to move a staff member to a different award classification," Ms Carnell said.
"If a small business decides to stay within the current award structure, they need access to comprehensive advice regarding their obligations. A reg-tech solution should be created – accredited by the FWO – that provides a technology-driven method for small business to comply.
"Small businesses will be facing enormous challenges and uncertainty as they emerge from hibernation. If they don't have flexibility and confidence in the system, they won't employ," Ms Carnell said.
"The overly complex current system effectively forces small businesses to seek expensive legal advice to avoid the threat of significant penalties if they make a mistake.
"Another logical move would be to clarify the Small Business Fair Dismissal Code, to give small and family businesses the confidence they need to employ more Australians.
"We've provided the government with our Review of the Small Business Fair Dismissal Code, which recommends a number of changes to help small business employers meet their obligations," she said.
"Without a system overhaul, business confidence will continue to be undermined and that hurts both small businesses and workers.
"We look forward to taking an active role in the government's industrial relations discussions, as announced by the Prime Minister, over the coming months, so the small business community is heard on these issues that affect them directly. This has the potential to be a game-changer for Australia's small business and family enterprise sectors," Ms Carnell said.
"We are committed to working to achieve the best possible outcomes for small businesses."
ends