REDaffect rides a new cycle of development
By Mike Sullivan >>
IT WAS KIND of like the song: three men, strolling along, singing a song, side by side … except they were riding pushbikes.
They each enjoyed the tactile nature of cycling the pleasant byways of the Sunshine Coast – the two elder of the three enjoying a change of pace from very busy and stressful careers, and all three soaking up the health benefits – until they came to the cyclist's nightmare: unavoidable busy roads.
They naturally remarked and complained to each other about how riding on busy roads was uncomfortably dangerous – and old stresses returned – so the men started throwing out ideas about how they could improve things until better bikeway connectors were built. What products and technologies might change things for the better? The three men discovered they had another thing in common beyond recreational cycling: they were all innovators.
Peter Scragg, a retired public servant and educator from Adelaide; Philip Jensen, a marketing leader across many industries and a successful call centre operator; and Cuen Bibb, a supply chain master and international procurer of goods, decided they were not only in good company, together they could make a great company.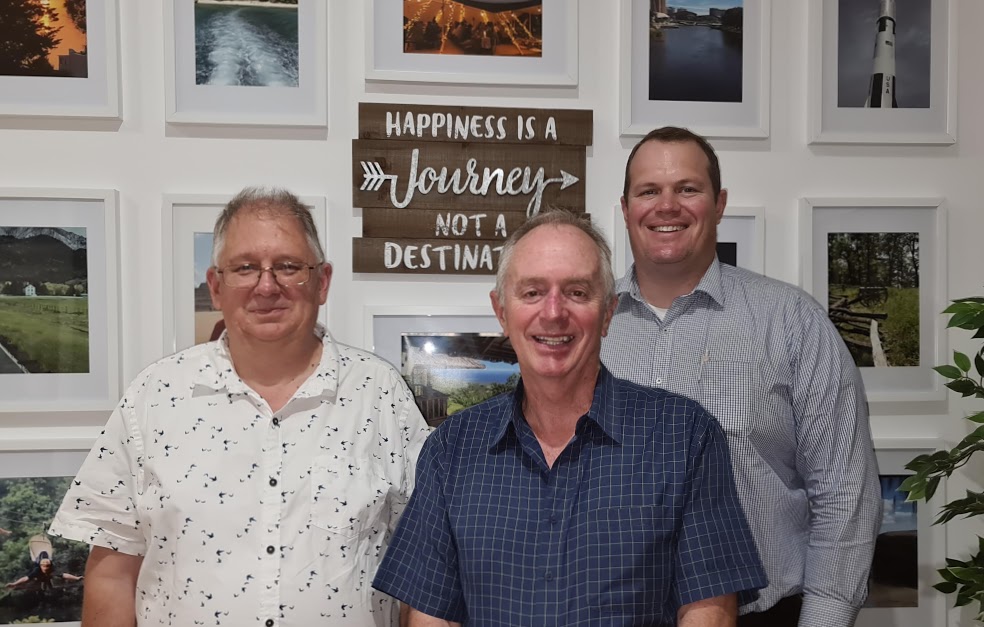 A company that solved problems by finding and developing products that made a positive difference to people's lives. A company that would start by finding the best safety products for cycling and, where possible, improve them with a view to manufacturing in Australia.
REDaffect was born less than a year ago on the Sunshine Coast and these three innovators are enjoying the fruits on their own social rides and now building a considerable local following from cycling enthusiasts – while interstate orders are coming in.
REDaffect's first real success was with an electronic high-visibility safety vest for riders that has a constant flashing warning light and right-left 'indicators', all controlled from a simple device mounted on the handlebars. But the first product that got Dr Scragg and Mr Jensen thinking was a clever bike stand that propped a bike up vertically, saving space and making for easier maintenance.
MEETING OF THE MINDS
Peter Scragg retired to the Sunshine Coast from Adelaide a few years ago and he began to look at rekindling his lost love for cycling. In between academic coaching stints, he wanted to ride – and he knew he needed some sort of high-visibility device, to help restore the confidence he had lost many years earlier from riding on some of Adelaide's busy streets.
"My partner and I were looking to do some importing," Dr Scragg said. "Coming from a more academic background, we knew we did not have the business expertise. In our developing friendship with Phil and Sue Jensen, we also saw in them the ability to connect on a business level.
"At the same time I was coaching a young man in his late 30s, Cuen. This guy is a bit of a savant. He can find the unfindable and he loves researching. That was his business background.
"Just in coaching him he came up with a couple of products, and I was so impressed with those (cycling) products. We all decided to explore things further."
The cycle-related products proved so useful and drew so much attention that a business began to emerge, almost of its own accord.
"I'm 62, I come from Adelaide and I'd given up riding a bike, because I didn't find it safe on the road. Also, you had nowhere to put the bike unless you mounted it on a wall and, for the last four or five years, I've been a bit mobile so, you know, the bike is always in the way.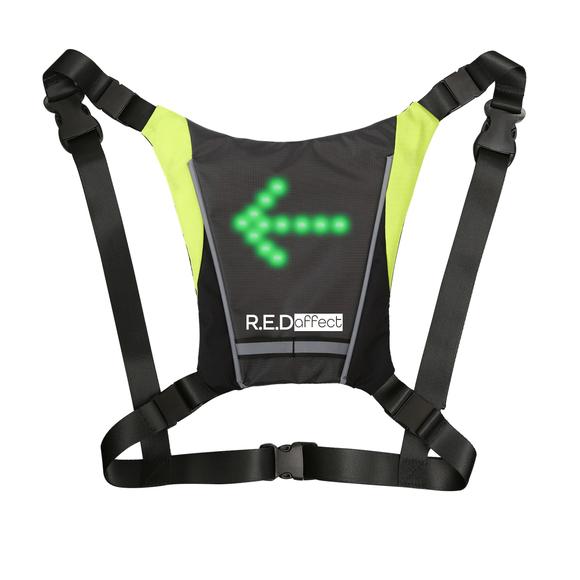 Another problem was, "Today half the bikes don't have (onboard) bike stands because they are 'not cool' … and they do get in the way a bit when you are doing some of the more athletic riding .. . so for the majority of people, you need somewhere to put a bike away. And you need some way of being safe on the road. When Cuen came up with these products, it was obvious we should form a company.
"So we three guys got together and formed a company which is called REDaffect. REDaffect came up because, when we all got together as a small startup business, it was quite clear that our prime purpose was to provide solutions to everyday problems – and behind everything we are doing, the idea is to 'do good'.
CYCLING FOR BALANCE
Ironically for Peter Scragg, it was cycling – more specifically the abandonment of it – that added to the stress of life which led to his retirement and eventual settlement on Queensland's Sunshine Coast.
"My problem in Adelaide was that I could not ride my bike, my fitness went to pot and my health went to pot. I did not feel safe on the roads," he said.
Dr Scragg put his retirement simply down to that – he did not "feel good".
"When you work in government, as I did, and at the senior levels of government, as I was doing at the time, if you are not healthy your stress levels increase," Dr Scragg said. "You need the endorphins in your body to reduce the impurities that fluctuate the stress. It really is that simple.
"So when we looked at these products – like the hi-vis vest – suddenly I felt safe to go out riding a bike."
MAKE THEM HERE?
All three partners realised that for quality control, and to add local innovation, it would be best to eventually manufacture in Australia.
Dr Scragg's research on the issue presented a model that is not 'big manufacturing, China-style' but allows quality products to be developed and produced cost-effectively in Australia. He calls it returning to 'cottage industries'.
Dr Scragg uses the example of the struggling US airline company JetBlue which appointed a new CEO David Neeleman who turned JetBlue around to be profitable "because he got the cottage industry factor involved".
"Rather than having big admin complexes, he got people to do the admin from their homes, connected on the internet. That, quite frankly, was outstanding and I think we can do the same sort of thing here."
The trio decided to give their business a name that would also explain their goals and REDaffect was born, written that way in capital letters.
R stands for refine. It is a reminder to adapt products to the local market. "Products that do not quite meet the Australian market as they have been designed for other markets or to a price," Dr Scragg said. "The products need to address the needs of the Australian situation."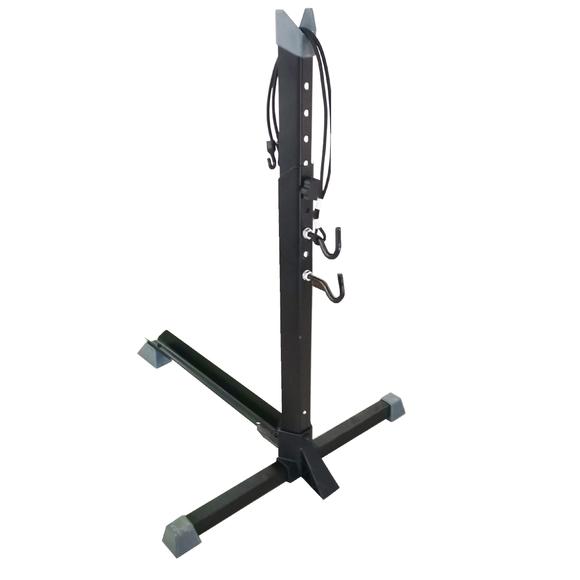 E stands for Evolve. "With the products that we have got now, the only way that we can evolve them properly is to manufacture here. We need solutions. When a product comes on the market here we are testing it out. The vest, I have been wearing it and I love it. I am wearing it because I can now ride on the roads. I rode down Nicklin Way the other day wearing it, peak hour traffic. No hesitation whatsoever."
D stands for develop. "Refine, evolve and develop is the way to resolve the everyday problems of people," Dr Scragg said. Development includes examining design and manufacture of products in Australia, using the 'cottage industry' approach.
PEDANTIC, VISIONARY, INVESTIGATOR
The structure of the business involves three personality types Dr Scragg calls "the pedantic, the visionary and the investigator".
"Phil is the pedantic, all those years in business of focusing on accuracy – skills that every business needs. And they need a chief pedantic, and that's Phil.
"Cuen, the investigator. He is the savant. The things that he finds are amazing.
"Phil and I will say can we do something another way and he says, 'I'll get back to you on that' and he does more research. We decided we were going to do the manufacturing here in Australia – we wanted to be independent – and he found someone here who could actually facilitate that. He is the investigator. The do-it man is the way I'd probably describe him.
"I've got the big mouth," Dr Scragg laughed, "I am the visionary, I see the broader picture and connect the dots. Then Phil builds the road to connect those dots and Cuen goes and finds other roads to connect more dots.
"But there is one thing we all passionately share and that is an enthusiasm to find solutions to everyday problems. There is a strong moral imperative to it. We are feeling our way into a market that is relatively new to us and introducing ourselves."
REDAFFECT PRODUCTS ROLL OUT
The REDaffect team is now promoting an official list of products – and some have already made an impact in two promotional rides by local political campaigners across the Sunshine Coast region. The products are in the market and they are labelled REDaffect.
"They are out there as a high quality reliable product that actually meets a need," Dr Scragg said.
The flagship is the vest, known as the REDaffect Hivis Safety and Warning Vest. It is worn over a shirt. On the handlebar rests its remote control. The vest is lightweight and waterproof and it is rechargeable through a USB port.
"It's as simple as that. No batteries to put in. No potential acid burn. It is not going to catch fire. The controller weighs less than 150g and mounts using cable ties much as a bell does," Dr Scragg said. It features large, clear signals that stand out in all weathers and light conditions. "This is going to give you the biggest chance of being well seen. "
The remote has penny batteries that are easily replaced, he said.
"The vest indicator runs for four hours constantly, before it needs a charge." For longer rides, a lower alert setting can be used and it is expected to last for up to eight hours.
Federal Member for the local Fisher electorate, Andrew Wallace wore a REDaffect vest on his recent fact-finding ride around the region.
"He called it Tour de Fisher," Dr Scragg said, remarking how locals had often inquired about the vest. "So a Fisher-based company is marketing these and looking to manufacture," he said. "It's a great local story."
REDaffect sees the vests becoming popular for children who ride to school.
Another very popular item, because of its safety, value and convenience, is the REDaffect Electric Pump. It is useful for bikes, but a real saviour for heavy e-bikes and even offroad wheelchairs.
"When you get a flat tyre on an e-bike, they are so heavy you cannot ride them, you have got to push them," Dr Scragg said. "This is a $100 product and it plugs in with a USB to recharge. It is absolutely portable and it weighs just under 1kg. You can adapt it for a car, a bike, a volleyball, soccer ball, balloons, whatever. It can get you to 110psi. Some racing bikes need that sort of pressure."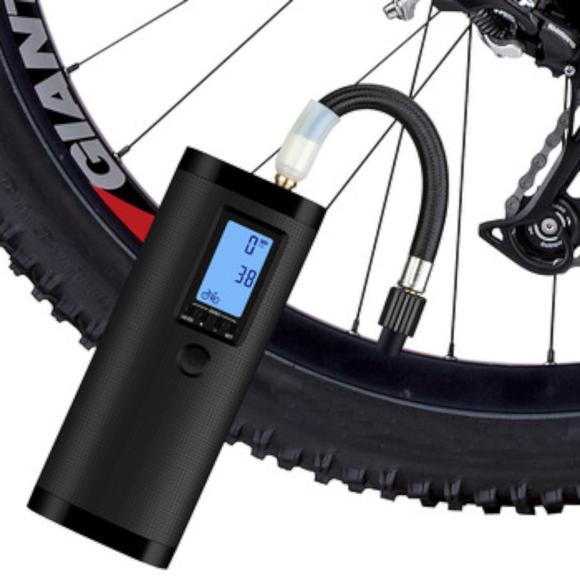 An advantage over existing cigarette-lighter units is the lack of cable. "This one I can carry on my bike. It fits into my accessory bag. It gives two complete fills of a car tyre before it needs a recharge."
The unit also works to pre-set pressures. "It takes it to, say, 38psi then it stops. That's great for serious riders who can pre-set their pressures."
Another hi-tech illuminated safety device on the books is the REDaffect Bike Taillight with Laser Lines.
It looks like an ordinary rear light but it has five different settings. It projects down over the rear wheel on the hologram setting and projects a bike shaped image. It projects back along the road up to 4m from the source.
"At night, drivers can easily see where you are and there are also red boundaries on either side of the bike, so they do not get too close," Dr Scragg said. "I've found it very useful in the early morning light, when drivers are perhaps more negligent. It also indicates space to passing riders. Useful for groups who ride together to assist in maintaining safe proximity."
THE TECH THAT STARTED IT ALL
Naturally, the device that started it all for the company, the REDaffect Bike Perch, is one of its biggest sellers.
"The bike perch is good for road bikes, kids bikes etc, but not so good for e-bikes as they are so heavy to lift up," Dr Scragg said. "It solves the problem of lifting up heavy bikes onto racks. Also, it is handy for students who cannot attach racks to walls. Their bikes are always in the way. "
Naturally, they are targeting students at Sunshine Coast University.
"We have modified the design already. We have two bungy cord type hooks that come on and strap on to your top wheel. There would have to be an earthquake before that thing would topple over. We just wanted to be 100 percent certain that people's bikes were not going to fall down on them in the middle of the night.
"The Bike Perch weighs about 4kg. It's also good if you have a kid's bike. It removes problems of grandchildren who have multiple bikes and they get left all over the yard.
"We think it's going to solve problems like that. Kids even like putting the bike up on the stand. And it is a very easy way to clean a bike as well. It is sometimes hard to get to that underneath section, but it's easy with this device."
HERE COMES 'THE SUZIE'
Another revelation is a lightweight replacement for a mobility scooter, which REDaffect calls The Suzie.
"We call it The Suzie, named after Phil's wife, Sue," Dr Scragg said. "It is really helpful for people who have a bad back, like Phil's wife. She started using a mobility scooter – and it took four people to lift it up and put it in a ute.
"The Suzie, however, weighs no more than a suitcase when you travel internationally. It weighs just 30kg. It folds up and out and still has a carry bag on it. It is cost efficient and usable, but it cannot include indicators, so REDaffect provides the Hivis vest as part of the set."
The Suzie is only just coming to market, but they expect it to cause a sensation.
"We fight to see who is going to have a go on it. Phil and Sue can get it in the back of their car by themselves. Mobility scooters usually need a trailer on the back of the car. This gives them that flexibility.
"Phil and I both had serious goes on it. It's fun to drive."
From experience, Phil and Sue Jensen have found mobility scooters to often be expensive to repair and maintain. As a result, REDaffect has found another local solution.
"We have an engineer available who actually provides that service," Dr Scragg said.
"He is based in Caboolture and this service will be provided for the Brisbane and Sunshine Coast areas."
As part of the plan, REDaffect is also organising servicing in outer regions too. "When this is fully available, we know it is going to be wanted all over Australia.
"A lot of older people will purchase this, (The Suzie) because it is very affordable and serviceable and very convenient," Dr Scragg said. "This makes us something different from just ordering items off the internet."
REDaffect has an online shop functioning now and has a pipeline of interesting products. Bike tour plans are well advanced for the Sunshine Coast region too.
"Refine, Evolve, Develop … we look at a multitude of issues and they are focused on bike riding at this stage," Dr Scragg said.
"Evolving right now are bike tours and we are starting a bike blog. People are looking for recommendations on where to go riding as a family, for example. Good places to go riding with kids. Good places to go riding when you are not a speed demon. Or if you are a speed demon and a serious cyclist, good places to go.
"We are looking at that development in the very near future.
"I stopped riding in Adelaide … and now I can't stop riding up here," Dr Scragg said. "In one environment I didn't feel safe, but now I am in another environment in which I have the resources to feel safe. And to be genuinely safer on the roads.
"We want lots and lots of people around Australia to discover and rediscover what that feels like – to be out riding safely."
ends
Bicycle on the beach: Image by Jennifer Regnier from Pixabay.