Shark Tank's Andrew Banks teams up with CSR tech start-up Informed 365
ENTREPRENEUR, mentor, investor and TV show Shark Tank member, Andrew Banks, has joined corporate social responsibility (CSR) technology start-up, Informed 365, in a bid to help corporate Australia manage challenging new CSR-related laws.
Informed 365 is moving to become the industry-leading technology solution for more than 3,500 Australian companies which are now legally required to report under the Federal Government's Modern Slavery Act.
As part of the Commonwealth law, passed last year, all Australian companies, private and public, with annual revenues greater than $100 million, are required to report on their supply chains to ensure that no slaves or underage children have been used in the production process.
The growing supply chain management market is on track to reach $19 billion in 2021.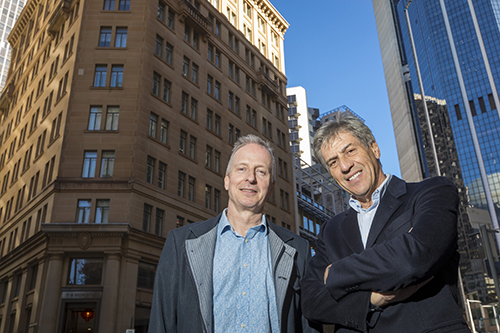 Mr Banks said the market opportunity "in tech solutions that could assist global businesses to make better, more informed decisions with respect to corporate responsibility was staggering".
"The enactment of the 2018 legislation on Modern Slavery is a very topical issue and Informed 365's SaaS solution provides both board directors and leadership teams the comfort and compliance they need in a fast, practical and, cost-efficient way," Mr Banks said.
"No chairman or CEO of any company needs to wake up one morning and find out they have accidentally tripped some wires around this new modern slavery legislation, or any other issue in their supply chain that could damage their brand or share price," Mr Banks said.
"I love investing in businesses that have a 'positive purpose' and are also commercially scaleable. I think Informed 365's idea to create affordable software that provides 24/7 transparency is brilliant, especially as users can 'dial up' what is important to them, such as modern slavery, carbon footprint, climate change, or just the diversity of the companies that supply them with products and services," Mr Banks said.
UNIQUE CSR OFFERING
Informed 365 is currently the only company in Australia providing a customisable service in the CSR tech space, Mr Banks said.
Its sophisticated platform enables ASX listed companies, multinationals, NGOs and government organisations to collect insights around supply chain management, climate change resilience and greenhouse gas monitoring to help them make better, more informed decisions while improving efficiency, transparency, and visibility.
Nicholas Bernhardt is CEO and co-founder of Informed 365. Having spent a career in investment banking, Mr Bernhardt has turned his attention to scaling technology and educating corporate leaders about how Informed 365's web-based solutions can assist in providing clarity around supply chain activity and improve a company's moral compass.
"In Australia, it is now mandatory for companies earning over $100 million in revenue to report on their supply chain practices, while the threshold in New South Wales falls to $50 million," Mr Bernardt said.
"With the first reports due in 2020, companies must start reviewing their supply chains to collect data to comply with the new reporting obligations for the next financial year. By default, they will need to have some kind of tech solution to facilitate this and that is where Informed 365 comes in," he said.
"In addition to government regulations, stakeholders are now also expecting to see reporting on greenhouse gas emissions and climate change risk. These areas are no longer negotiable and companies need to address them if they are going to do their shareholders justice."
Mr Bernhardt said Informed 365 provided a more standardised process of reporting, making it easier for companies to be compliant with the new laws.
"It can be very difficult for companies to obtain information on their suppliers in an efficient way," Mr Bernhardt said.
"Previously companies would use Excel spreadsheets to collect data, which is time-consuming and inconsistent. At Informed 365, we create branded, customisable turnkey solutions where companies can distribute tailored surveys to suppliers, visualise their data through real-time dashboards, and see detailed analytics of high risk and weak spots in the supply chain.
"At the end of the process, a company has a sophisticated report to share with the government and stakeholders demonstrating its compliance to regulations, and commitment to ethical and sustainability goals."
Since it was founded in 2014 by co-founders Nicholas Bernhardt and Tim Dorey, Informed 365 has already worked with major organisations, including Origin Energy, ANZ bank, Procurement Australia, Tertiary Access Group, Australian Legal Sector Alliance, V/Line, The Red Cross, Ausgrid and Treasury Wine Estate.
It has also partnered with Vivid Sydney Festival to help manage its water, energy and waste consumption in line with the festival's environmental commitments.
ends