Brisbane Global Tens to kick off 'rugby heaven' in 2017
RUGBY aficionados call it 'the game they play in heaven' and if that's the case then the rugby angels will be alighting in Brisbane in February 2017.
The inaugural Brisbane Global Tens tournament and the two-day sporting bonanza will bring some of the world's best rugby players to Brisbane.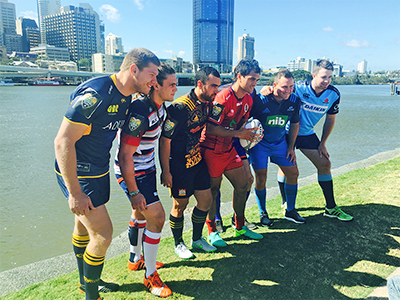 Reinforcing the city's reputation as a premier sporting event destination, the Brisbane Global Tens tournament will bring 300-plus players from Australia, New Zealand, South Africa, France, Japan and Samoa together for a gladiatorial spectacle expected to attract fans from throughout Australia and overseas.
Billed as two days of 'rugby heaven' with $1.6 million in prize money up for grabs, the exclusive 10-a-side competition will be played at the world-class Suncorp Stadium, which is conveniently to the Caxton St dining and entertainment precinct.
Every Australian and New Zealand Super Rugby franchise will participate, along with four invitational teams from the four other nations involved.
Brisbane  Mayor Graham Quirk said the new tournament demonstrated Brisbane's growing desirability as a location to host high-profile international sporting events.
"Our 2022 New World City Action Plan aims to deliver major drawcard events for Brisbane and the new tournament fits that bill perfectly," Cr Quirk said.
"This is an elite competition in which traditional rivalries will be played out in what many consider Australia and New Zealand's best rugby stadium – Suncorp.
"An event like the Brisbane Global Tens is not just a boon for sports fans though. It provides a financial boost to our hotels, local businesses, retailers and tourism attractions as well as a sense of community spirit as people gather to watch the games at the stadium and elsewhere.
"We welcome all the football codes in Brisbane, but rugby has really taken centre stage when it comes to international sporting contests here lately. In June we had the Wallabies play England and on September 10 they will take on South Africa at Suncorp Stadium.
"Along with the Brisbane International and the World Science Festival Brisbane, the Brisbane Global Tens will be a fantastic kick-off to major events hosted by our city in 2017."
The Global Tens concept is expected to herald an exciting new era for the game in an abbreviated form of rugby that will be fast and furious; sitting between Sevens and the full 15-a-side version.
"It's the best of both worlds, offering the pace and freedom of Sevens with the physical intensity and high-quality forward and backline play of the traditional game," Cr Quirk said.
"The tournament marks the first time Suncorp Stadium has hosted a major rugby tournament over two days and I expect all the games will be sell-outs.
"For local fans it's a not-to-be-missed opportunity to see the Queensland Reds take on some of the best teams in the world."
The Brisbane Global Tens tournament will be delivered by Duco Events supported by Tourism and Events Queensland and Brisbane Marketing.
www.visitbrisbane.com.au/globaltens.
ends