QUT Foundry start-up space lauded by Queensland Chief Entrepreneur
A START-UP incubation space to nurture the next generation of business leaders at QUT has been officially opened by Australia's first State Chief Entrepreneur, Mark Sowerby.
The QUT Foundry, a co-working and mentoring space at QUT's Gardens Point campus, was officially launched by Queensland Chief Entrepreneur Mark Sowerby on October 21.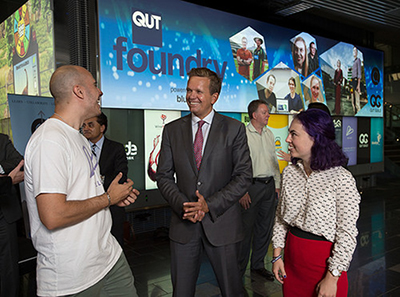 Mr Sowerby is one of the state's most successful entrepreneurs and best known as the founder and former managing director of Blue Sky Alternative Investments Ltd, an ASX-listed diversified funds manager focussed on alternative assets. 
Through Blue Sky, Mr Sowerby has helped grow a portfolio of innovative companies – including Toowoomba organic producer Kialla Pure Foods, fashion groups Shoes of Prey, Aquila and Eloquii and wine 'game changer' Vinimofo – along with a range of cutting edge sustainable property developments, including many in the student accommodation sector.
As the inaugural Queensland Government-appointed Chief Entrepreneur, Mr Sowerby helps set Queensland's strategy to identify, attract and nurture opportunities to best position Queensland as the Start-up State.
The QUT Foundry, powered by QUT's innovation, venture and investment company qutbluebox, is a space for QUT student entrepreneurs, staff and alumni to devise and develop ideas. As well as mentoring opportunities, QUT Foundry start-ups will have access to regular events and advice from industry experts.
Mr Sowerby said QUT was "a force to be reckoned with" and praised the opening of QUT Foundry as the latest step in the university's evolving entrepreneurial focus.
"You can't have enough of these spaces," Mr Sowerby said.
"What you're really playing for is that random interaction, that sliding door moment that changes the world.
"QUT is an incredible place. There is so much momentum here and everybody's behind it."
QUT has been selected to host the MIT Global Entrepreneurship Bootcamp at Gardens Point campus in March, 2017.
QUT deputy vice-chancellor for research and commercialisation, Arun Sharma said QUT Foundry was part of a wider commitment to making QUT a hub for emerging entrepreneurs.
"Queensland has a strong track record in fostering globally successful entrepreneurs like Mark Sowerby and QUT will be at the forefront of encouraging the next generation," Professor Sharma said.
"The QUT Foundry is an exciting, creative space where young entrepreneurs will have support to transform innovative ideas into real world business solutions."
ends