Digital skills 'found wanting'
DIGITAL disruption is having a debilitating effect on both worker and employer confidence. Employers are worried about skills shortages while workers are worried they do not have the digital skills to guarantee future employability.
In fact, according to human resources (HR) and recruitment specialists, Randstad, one in two Australian workers fear a lack of digital skills.
The quarterly Randstad Workmonitor Report showed over 55 percent of Australians think they need to develop stronger digital skills to guarantee their future job prospects. A further 67 percent believe that digitisation of the workforce requires different skill sets to those available at their current employer.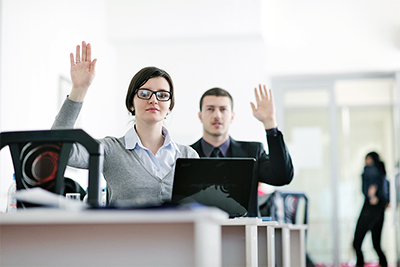 With careers in STEM (science, technology, engineering and maths) on the rise, and many existing jobs set to become even more digitally focused in the future, Randstad Australia and New Zealand CEO Frank Ribuot said there was more pressure than ever on employers to upskill the workforce.
"Careers across the board are transforming with advances in technology, as we change the way we work, the way we communicate with customers and employees, and the way in which consumers spend and engage with brands," Mr Ribuot said.
"In response, organisations are adopting increasingly sophisticated digital strategies to maintain a competitive edge and deliver a superior customer experience, but the workforce is not feeling confident their employer is keeping them up to speed with the pace of change."
Mr Ribuot said if the issue of skills shortages and lack of training was not addressed in the immediate future, Australia risked having a workforce that was not skilled for long-term employability. 
"Organisations across many industries are snapping up talent with these digital skills, but not necessarily upskilling their existing workforce," Mr Ribout said. "This has led to a gap within the talent pool and that gap will be set to widen if the issue is not addressed. A shift in thinking needs to happen now or we risk a skills shortage in the long term, with a significant section of the workforce ending up unemployable in the near future."
With 85 percent of the Australian workforce agreeing that every employer should have a digital strategy in place, Mr Ribuot added that focus on training needed to be the priority.
"People are obviously crying out to be upskilled and offering the right kind of training and development will be key to employers attracting and retaining top talent moving forward," he said.
"This time of year is typically when people reflect and review their careers and consider a change if their needs aren't being met. Randstad research shows talent is not just attracted to financial incentives, but also skills development, career progression and workplace flexibility.
"While it can seem daunting to train staff from scratch, employers should keep in mind that many skills are actually transferrable.
"Many customer service roles for example have already shifted from interacting face to face, to creating content for social media channels and listening and responding online to customer feedback," Mr Ribout said.
"The same principles apply, it's just about shifting our thinking around how service is delivered and how we train and develop our people in these skills."
Randstad Workmonitor highlights: Jobseeker sentiments in digital age
•        85% of Australians believe every company should have a digital strategy (84% globally).
•        62% of Australians surveyed state their employer has a digital strategy (59% globally).
•        67% agree that digitisation requires different skill sets than currently available with employees at their employer (68% globally).
•        55% believe they personally need to acquire more digital skills to guarantee their future employability (62% globally).
ends