Employee fitness app takes out 2016 Tanda Hackathon
WORKPLACE health and happiness took centre stage at the annual Tanda Hackathon over the ANZAC Day weekend, with 150 of Brisbane's best programmers creating software that could revolutionise the way we work and live.
The Hackathon was the largest of its kind in Queensland, bringing together information technology (IT) students with industry professionals.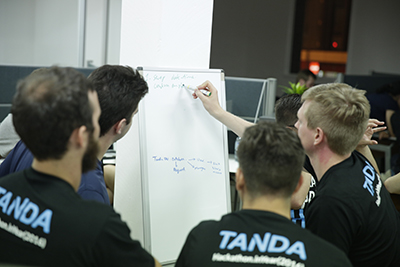 Teams tirelessly worked overnight to create products built from the Tanda application program interfacing (API), with the hope of pitching them to judges Brett Hooker, Adrian Karzon and John Puttick, then prospective customers.
"The event was a huge success. It really goes to show that you only need 24 hours to change the world," Tanda co-founder Alex Ghiculescu said.
The winning team designed 'Project 4', a web app that encouraged employee fitness by linking Fitbit data to Tanda's rostering platform. Employees are rewarded by how active they are during the shift.
Co-creator of Project 4, Roy Portas said, "We wanted to create something that could combine Tanda's new API with the Fitbit API to motivate employees at work, but also provide managers with data about their business such as which hours are actually the busiest, based on the movement on employees.
"This was my first Hackathon," he said. "I'd heard about it through the UQ Computing Society and thought it would a great chance to get in and learn something new. 
"Being a Uni student, I don't have a lot of time during the week, so being able to come in for the weekend and learn all about APIs in a hands-on environment was fantastic."
Project 4 wasn't the only idea focusing on workplace wellbeing, with another team developing an app that used to facial recognition technology to determine employee happiness based on their clock in photos.
Event organiser Nicholas Burge from Tanda said, "It was exciting to see so many people build something really cool. There were so many ideas where you could see that the concept had been really developed and our customers would love to be involved.
"Some other ideas were a little more outrageous, with someone wanting to build a big red 'I Quit' button, and another tried to start a Tinder for professionals," Mr Burge said.
The Tanda Hackathon provides a unique opportunity for programmers to get together and show off their skills while also mingling with fellow developers and IT market leaders, Tanda's Mr Ghiculescu said.
"Students have limited exposure at university, they were all really appreciative of the opportunity," Mr Ghiculescu said.
"We're definitely going to look into doing more networking nights with students." 
The competition was judged by be judged by Technology One group director of research and development Brett Hooker, Skydive Australia Group technology manager Adrian Karzon, and IT legend John Puttick, the founder of GBST and a QUT Council member.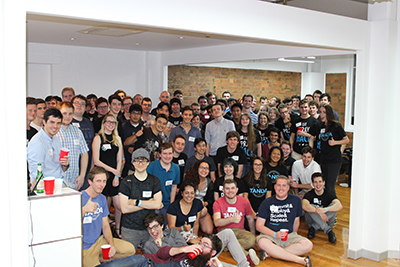 Mr Ghiculescu said providing a platform for the "up-and-coming tech legends" has become a core reason for the event, with the lion's share of every ticket going straight back into university clubs and societies.
Tanda, initially started by four QUT students, is a time and attendance software designed to assist business in increasing their productivity and profitability, by minimising unnecessary wage costs.
Tanda 2016 Hackathon results were:
First place: '\lessapprox' with 'Project 4'; Roy Portas, Sophia Hooton, Megan Hunter and Jesse Stanger.
Second place: 'Vansandt'  with 'Take the Shift'; Scott Barber and Trudi Saul.
Third place: 'SISO' with Jeff Lynne, David Buchan-Swanson, Martin Wheeler and Saadit Khan.
ends