Join us and show your support for journalism that makes a difference.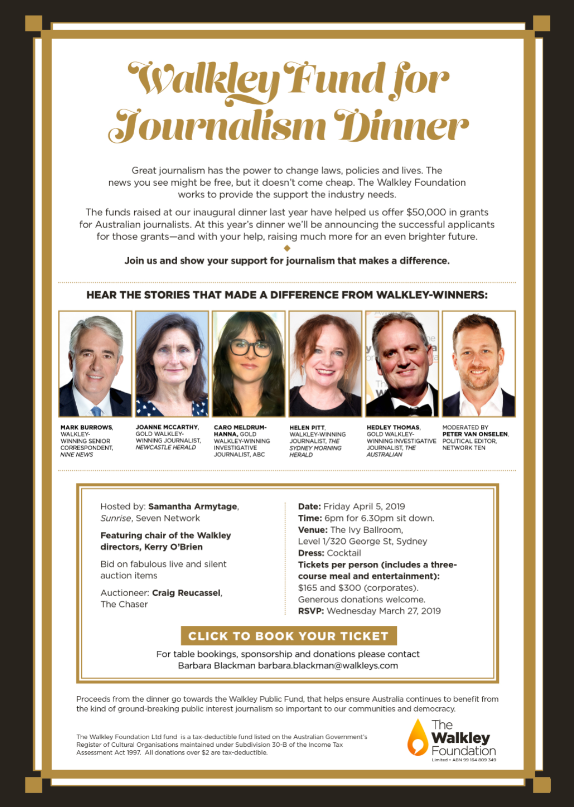 Great journalism has the power to change laws, policies and lives. The news you see might be free, but it doesn't come cheap. The Walkley Foundation works to provide the support the industry needs.
The funds raised at our inaugural dinner last year have helped us offer $50,000 in grants for Australian journalists. At this year's dinner we'll be announcing the successful applicants for those grants—and with your help, raising much more for an even brighter future.
http://cdn1.walkleys.com/wp-content/uploads/2019/02/Samantha-Armytage-thumbnail-99x100.jpg 99w" sizes="(max-width: 248px) 100vw, 248px" style="border: 0px; margin: 0px 20px 0px 0px; padding: 0px; font-size: 0px; color: transparent; vertical-align: middle; max-width: 100%; height: auto; float: left;">Hosted by: Samantha Armytage, Sunrise, Seven
Featuring chair of the Walkley directors, Kerry O'Brien
Date: Friday April 5, 2019
Time: 6pm for 6.30pm sit down.
Venue: The Ivy Ballroom, Level 1/320 George St, Sydney
Dress: Cocktail
Tickets per person (includes a three-course meal and entertainment): $165
RSVP: Wednesday March 27, 20
For table bookings, sponsorship and donations please contact Barbara Blackman: barbara.blackman@walkleys.com or (02) 9158 3821
Proceeds from the dinner go towards the Walkley Foundation Public Fund, that helps ensure Australia continues to benefit from the kind of ground-breaking public interest journalism so important to our communities and democracy, strengthening the bounds of trust between the media and the communities they share.
The Walkley Foundation Ltd fund is a tax-deductible fund listed on the Australian Government's Register of Cultural Organisations maintained under Subdivision 30-B of the Income Tax Assessment Act 1997.
All donations over $2 are tax-deductible.